Dr. Makarita Accomplishments
Accreditation in the American Academy of Cosmetic Dentistry (AACD) serves to set standards for excellence in cosmetic dentistry.
Achieving Accredited status from the AACD requires dedication to continuing education, careful adherence to the protocols, and a resolve to produce exceptional dentistry.
An Accredited Member has successfully completed the comprehensive Accreditation process, which consists of a written examination, delivering and extensively documenting a broad range of cosmetic treatment solutions for five patients and an oral examination administered by the American Board of Cosmetic Dentistry.
By successfully completing this process, an Accredited member demonstrates a very high level of clinical skill and ability in cosmetic dentistry. Dr. Makarita successfully became an accredited AACD member in 2001.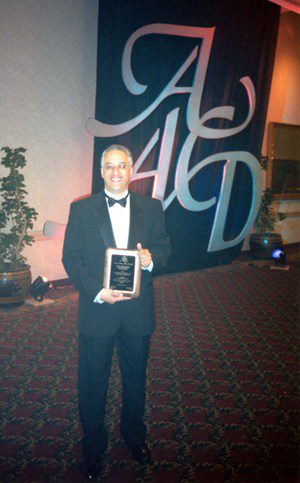 AACD Accredited Fellow Award
Accredited Fellow is the highest credential earned in the American Academy of Cosmetic Dentistry (AACD). In addition to meeting the rigorous requirements of an Accredited member, an Accredited Fellow must successfully complete 50 cosmetic cases that meet Accreditation standard of excellence set forth by the American Board of Cosmetic Dentistry.
By successfully completing this process, an Accredited Fellow demonstrates a continued ability and sustained commitment to deliver excellence in cosmetic dentistry. Dr. Makarita became the 39th member of the Academy to attain Accredited Fellowship status in 2005. Currently there are 49 Accredited Fellows worldwide.
The Academy of General Dentistry (AGD), a professional association of more than 35,000 general dentists who are dedicated to staying up to date in the profession through continuing education. Dr. Makarita received the association's Mastership award during the AGD 2000 Annual Meeting in Toronto, Canada.
The Mastership award is the highest honor available at the AGD and one of the most respected designations within the profession. To accomplish this goal, Dr. Makarita had to first complete his Fellowship in the AGD, which he received in 1996 and required 500 hours of continuing education. For Mastership, Dr. Makarita had to complete an additional 600 hours of continuing dental education in specific disciplines and 400 of those hours had to be in participation courses, for a grand total of 1,100 hours. As a recipient of the Mastership award, Dr. Makarita joins a group of less than 1% of general dentists who have achieved this honor.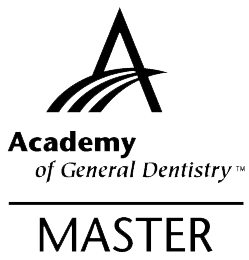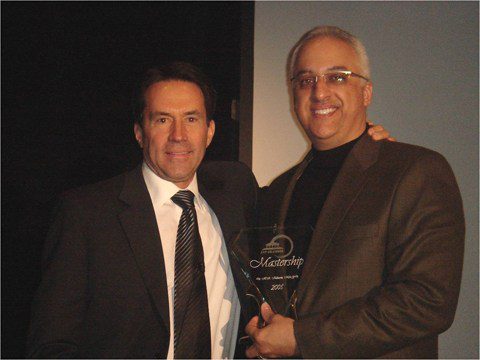 Dr. Makarita was awarded LVI Mastership in 2006. The LVIM distinction is awarded to those who have completed the extensive Core Curriculum at the Las Vegas Institute for Advanced dental Studies, and have demonstrated proficiency after submission of three clinical cases. The cases are evaluated by a committee appointed by LVI, who look for a true understanding of comprehensive aesthetics, and functional dentistry. Each candidate must also pass a rigorous written and oral examination.
The intent of the LVIM program is to reward and encourage the development of clinical expertise and continued learning in the realm of Aesthetic Neuromuscular Reconstruction.
The program is designed to create and provide a learning and validation process where the applicant can determine if he or she has an adequate understanding of the restorative and neuromuscular concepts taught at LVI.
The objective of the LVIM program is to recognize those individuals who can provide a high level of comprehensive aesthetic neuromuscular diagnosis and treatment. It also recognizes their efforts to promote the advancement of neuromuscular dentistry.
As the number of LVI graduates treating musculoskeletal dysfunction of the head and neck increases, LVI has recognized the need to implement an accreditation process to assess competency, ensure continuing education knowledge, and maintain a high standard of care among those treating their patients with neuromuscular dentistry principles.
Dr. Makarita has won the prestigious People's Choice Award in the 9th annual American Academy of Cosmetic Dentistry (AACD) National Smile Gallery Competition. Out of 270 entries, Dr. Makarita's work was selected for this award at the organization's annual scientific session in Orlando, Florida.
The Annual AACD Smile Gallery Competition awards winners in four categories based upon technical skill in cosmetic dentistry, including: Indirect Restorations, Missing Anterior Tooth Restorations, Single Unit Anterior of Posterior Esthetics.
After winning numerous awards over the past several years, Dr. Makarita served as a judge for these competitions.
International Academy for
Dental Facial Esthetics
The Academy for Dental Facial Esthetics is an honorary service organization whose mission is to foster interdisciplinary education in the area of facial esthetics.
Fellowship in the Academy for Dental Facial Esthetics is available for professionals who are committed to the pursuit of excellence through continuing interdisciplinary education in the field of facial esthetics. They must have also attained recognition within their own respective professions. Dr. Makarita was elected to this organization in 2003.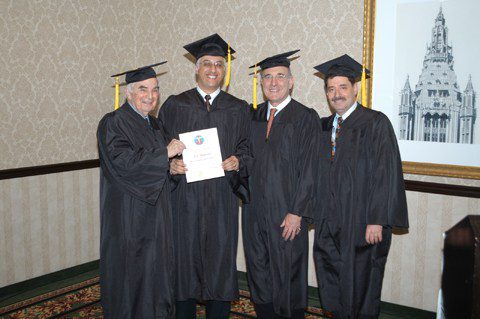 Dr. MAKARITA voted among top dentist